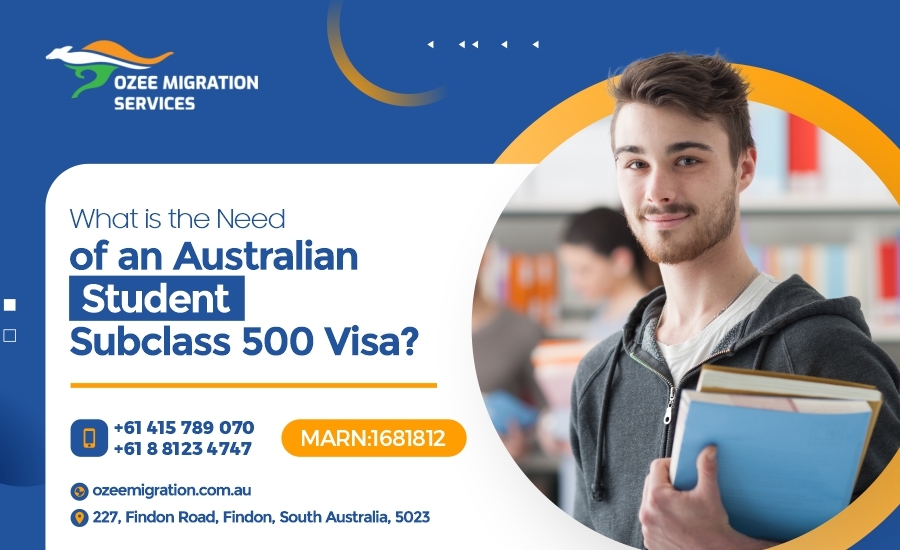 If you're holding some precious dreams of studying in Australia then the student visa(subclass 500) is for you. Lesser known to many, this visa allows the students who are pursuing any course under CRICOS(Commonwealth Register Of Institutions and Courses For Overseas Students) to stay & study in Australia for the time their course is valid.
The student subclass 500 visa works under various strict rules & regulations of Australian Immigration Authorities. Thus, it is significant to realize that such visa applications are not easy to handle manually instead a migration agent Adelaide might be a saviour for you. Our adept professionals at Ozee Migration are potential enough to sail you through the difficulties of this visa.
What Student Visa(subclass 500) allows you to do?
The student visa(subclass 500) can provide you with certain privileges. These are:
With the subclass 500 visa, you can enrol yourself in a full-time course under the CRICOS program (provides provision & entitlement) as well.
After your course begins, you can even work for 40 hours per fortnight(as a part-time job).
With this visa, the student who lives in Australia can also call a family member with him/her.
The student subclass 500 visa also permits you to travel in and outside Australia for five years.
This visa allows you to stay in Australia for 5 years, however, it may vary depending on the course you opt for.
What is the Eligibility Criteria For Student Visa Subclass 500?
To fall eligible for the visa, you need to stand out on some of the below-enlisted criteria. Let us review them one by one.
Age Restriction- If you wish to apply as a school student, then your age must be more than six years. This visa doesn't apply to the students who are enrolling under secondary school student exchange platforms. However, for later classes:
The applicant should be less than 17 years old in the ninth year.
At the beginning of the 10th year, he/she must be below 18.
At the initiation of the 11th year, he/she must be less than 19.
At the commencement of the 12th year, age shouldn't exceed 20 years.
Enrol in multiple courses- The student is entitled to register for more than one course, however, you must provide an individual COE(Certificate of Enrolment) for all of them. If you don't provide this information in the visa application, then the authorities will grant you a visa for the course specified only.
Enrolment proof- The proof of enrolment that is "Certificate of Enrolment" is mandatory for visa approval. If you don't show in front of Immigration Authorities, your visa will be outrightly refused.
English-language Requirements- The evidence of your English proficiency must also be shown to the authorities. The scores of department-approved tests will act as a convincing scenario for the Australian Immigration Authorities.
Welfare Arrangements- The students are themselves responsible for making welfare arrangements if they are under 18 years of age.
Health Insurance Proof- The student along with his/her family member will have to show that they have proper health insurance approved by a certified Australian Insurance Company.
Financial Proof- The student must be capable of showing that they can financially sustain themselves while in Australia. All the financial documents must be submitted to the Australian Immigration Department.
Temporary Entrant requirements- In this undertaking, the Australian Immigration Authorities self-assume that the student has genuine intentions of leaving Australia once the course ends.
Character proof- If the student and the family member is above 18 years of age, then they must show the proof of their wise character to the Immigration Department. In case you fail, your visa will be rejected anytime.
No visa cancellation/refusal history- This is the last yet most important eligibility criteria to fulfil. Ensure that you don't have any previous record of visa refusal or cancellation with the Immigration Authorities. Your visa application will be dumped if there is any past record of your unsuccessful tries to acquire the visa.
How Long Can be the Processing Time For Student Visa(Subclass 500)?
Well, the answer to this question entirely depends upon the field that you wish to enrol in. However, the estimated time can be range:
For the higher education sector- It takes approximately one month(for 90 per cent of people) for a visa to be processed.
For the vocational and training sector- It takes more than 2 and less than 3 months(as per the claim of 90 % of people) for visa processing.
We have the potential to be your trustful migration agent Adelaide for any route of your visa. As far as student visa(subclass 500) is concerned, our highly capable team of migration agents in Adelaide strive to fall, unlike most migration agents. At Ozee Migration, we ensure you with correct information, fast processing, fewer delays, and paramount professionalism.
Also Read: Australian Student Visa- Eligibility, Requirements, and More!