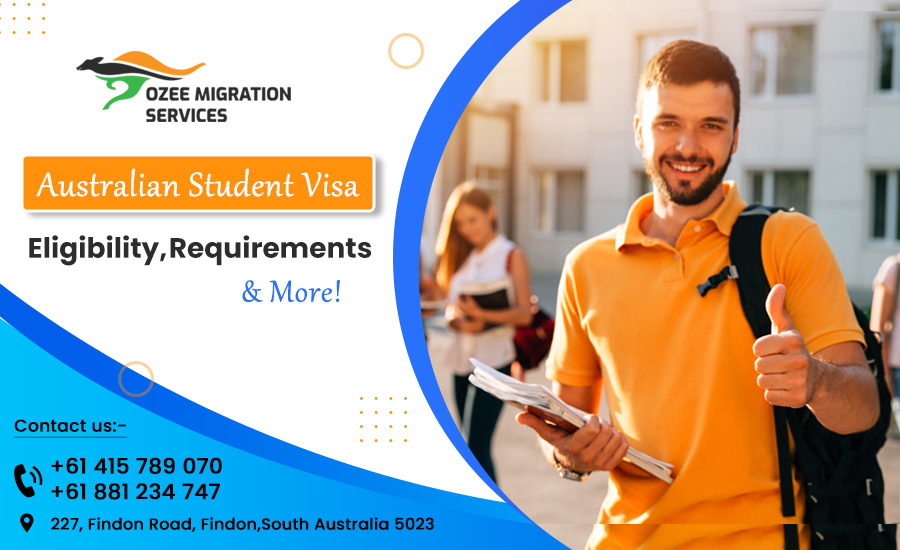 If you are one of those who are wishing to get some quality education then Australia can be your dream destination. Apart from beautiful landscapes, enriched culture & diversity, and soothing beaches, Australia holds the record of placing students in the most promising sectors. To study in Australia, you will have to apply for an Australian Student Visa.
For a student visa, you will have to lodge a visa application. To do so, you might look up to Ozee Migration Services. We offer the expert assistance of our visa consultant in Adelaide to help an applicant through his/her student visa application. Our migration agents weave down together all the critical elements of an Australian Student Visa. Let us proceed a little further to understand the other essentials of this visa.
What is the Eligibility Criteria For an Australian Student Visa?
To get a student visa, you must fulfil certain requirements. These are:
You must be more than six years of age to apply for this visa.
You should be enrolled in an eligible course that is registered with CRICOS.
You need to provide a Certificate of Enrollment (COE).
If under 18, you must have adequate welfare arrangements to live in Australia.
You must show evidence of your English proficiency.
You must have Overseas Student Health Cover from an eligible insurance provider.
You must have sufficient funds to support yourself financially in Australia.
You must be able to show a GTE(Genuine Temporary Entrant) certificate to the Australian Authorities.
You must meet the necessary character and health requirements.
There should not be any visa refused or cancelled on your name in the past.
There shouldn't be any debt pending with the Australian Immigration Authorities.
What Could be Done on the Australian Student visa?
With this visa, you can:
Get engaged in an eligible course of study in Australia.
Have the flexibility of travelling in and out of Australia.
Have the feasibility of working up to 40 hours every two weeks once the course starts.
How Long Can You Stay With an Australian Student Visa?

An Australian Student Visa is a temporary visa that has a validity of five years. Rest all, it depends on the type, of course, you have chosen and the duration of the course. For children of age 0-4 years, a visa with a three-year validity is given. However, you will have to apply for a new student visa if you wish to stay longer. 
You will have to apply for a visitor visa(subclass 600) if your visa is about to expire before your graduation. If you have or had a student visa & completed the necessary requirements in the past six months, you are eligible to apply for a Temporary Graduate Visa(Subclass 485). Or, if you are an engineering student(passed out from a prestigious institution), you can then apply for a Skilled Recognition Graduate Visa(Subclass 476). 
Whom Can You Include in Your Australian Student Visa Application?
In a student visa application, you can include:
Or, your or your partner's dependent child who is not married and has not yet turned 18 years.
For a dependent child, a visa cannot be granted until they have turned 18 by the time your visa gets approved. It doesn't matter if your family is travelling with you or not, you must declare their names in the application otherwise they won't be eligible to apply in future as well. Those who apply must meet the necessary health & character requirements. 
For more information, you can at any time contact our visa consultant in Adelaide. 
What is the cost of an Australian Student Visa?
The approximate cost for this visa is AUD620 unless you are in an exempted category. There is also a specific amount leviable on the family members included in the visa application. You might also have to pay for health checkups, biometrics, and police certificates. 
An important thing to note is that students who were unable to finish their course within their visa validity period(due to COVID-19) are eligible to apply for a fee waiver. 
How Ozee Migration Services Can Be Your Student Visa Consultant in Adelaide?
Our team at Ozee Migration are experts in configuring the easiest and convenient ways to let you migrate to Australia without any trouble. They possess years of experience in dealing with visa laws, rules, regulations, and other basics of a student visa. Simply put, they can be your saviours for both time and money. Nothing should await you now, we will be more than happy to help.