How Can You Apply For a Skilled Independent Visa Subclass 189?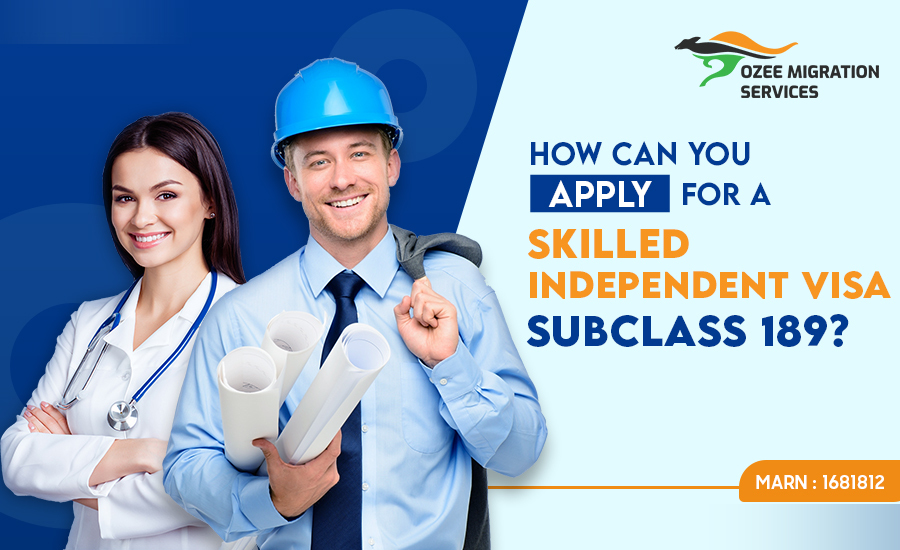 Skilled Independent Visa or Subclass 189 is a visa for skilled workers for people around the world or eligible New Zealand Citizens presented by the Australian Government. For this visa, you will have to have skills that are required by the Australian government. For those who don't know, this is a permanent visa that allows you to stay anywhere in Australia.
There are many more aspects of this visa that you should know about in detail. You would never know them unless you ask a migration agent about the same. We at Ozee Migration are an association of General Skilled Migration Agents who are driven by the united feeling of helping our clients through every little phase of the visa application process. Let us move further to understand this visa in a wider and closer view.
What is the Eligibility Criteria For a Skilled Independent Visa 189?
To get this visa, you will have to stand out on certain requirements. These are:
You must receive an invitation to apply for this visa.
You must have a suitable skills assessment at the time of declaration.
You must be under 45 years when you apply for the visa.
Since this is a points-based visa, you must score at least 65 points to apply for the visa.
You must be proficient in at least functional type English.
You must meet the necessary character and health requirements.
You or any of your family members must not have any pending debt with the Australian Authorities or Australian Immigration Authorities.
You must have signed the Australian Values Statement.
In the past, you must not have any visa cancelled or refused while you were in Australia.
What You Can Do With a Skilled Independent Visa Subclass 189?
The Skilled Independent Visa allows you to do certain things, these are:
You can stay in Australia permanently
You can also work and study in Australia.
You can also enrol yourself in Australia's medicare and healthcare schemes.
You can travel to and from Australia for five years.
Lastly, after checking all the requirements, you can also apply for Australian Citizenship.
How Can You Apply For a Skilled Independent Visa Subclass 189?
A series of steps need to be followed when it comes to applying for a skilled independent visa subclass 189. These are enlisted below, have a look:
Before Visa Application- You must submit an expression of interest through skill selection. Submitting EOI is the first step followed by an invitation to apply for the visa. With that, you will also have to organise the health exams, access your eligibility criteria, and points test.
Collect the Documents- Once you have done the first step, you can then invest your time in gathering important documents such as health, character, identity, relationship, partner, EOI, and dependent documents.
Visa Application- Once you have an invitation, you are eligible to apply online. For this, you can be either in Australia or outside Australia. From the date of the invitation, you have 60 days to apply for the visa. You can apply online via your immiaccount; provided you have to apply with all the accurate information.
After Visa Application- Once you have applied, you will now have to follow up on certain important things such as status updates, health exams, bio metrics, lawful stay, second installment payment, any mistakes, and any sudden changes in your visa application(before the visa is granted).
Visa Outcome- You can be in or outside Australia when the Australian Authorities decide on your visa application. There are two main probabilities of a visa application. These are:
If your visa is granted, the authorities will also tell you about the visa grant number, starting date of the visa, and other critical visa conditions.
In another case where your visa is rejected, you will be notified about that as well. Besides, you will also know the reason behind your visa refusal and about your right to review the application or not.
How Long Can You Stay In Australia On a Skilled Independent Visa?
As we have already discussed, this is a permanent visa and lets you stay in Australia indefinitely. The travel component of this visa is valid for 5 years after the date of the visa grant. You can stay permanently in Australia from the day we grant you this visa. If you're interested in Australian Citizenship, you can start applying from the day when:
The visa is granted while you are in Australia.
You entered Australia while you were out of Australia.
Ozee Migration As Your General Skilled Migration Agent Adelaide!
A Skilled Independent Visa Subclass 189 is an easy and go-to option if you want to live in Australian Permanently. At Ozee Migration, you will find the righteous assistance of migration agents in Adelaide who can very well drive you through the complexities of this visa. Right from the start to the end of visa application, you will find our professional, loyal, and hard-working migration agents standing right next to you.
Also Read: Analyze the Perks of Having an Australian Migration Agent!