Here are Listing Top 5 Reasons to Hire Registered Migration Agent!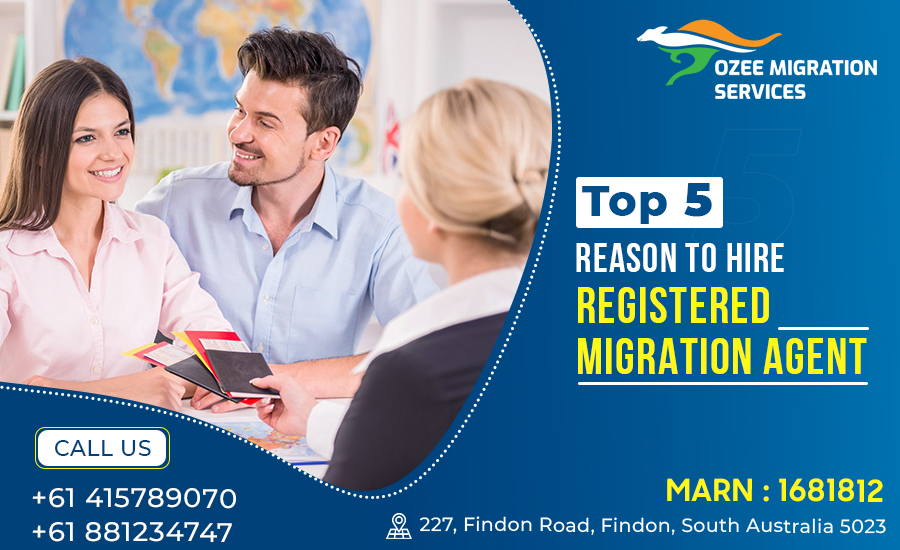 We all once in our lifetimes for sure want to visit abroad, don't we? When it comes to travelling on a tourist visa for once, the process is somewhere simpler. But, what about those who wish to settle there permanently or for a longer period of time? There has to be a long and complicated process for that. How will you then manage to file your visa application? On your own? 
Well, no. This won't be a good idea. Humans make mistakes, as simple as it can be. And, any mistake in your visa application can leave you with a disheartening experience. We recommend you to go for a registered migration agent provided by Ozee Migration who can get you all protected from the vulnerability of committing any mistake. 
In the further section, we shall highlight the potential benefits of hiring a registered migration agent. 
Who is a Registered Migration Agent?
A registered migration agent is a professional who specializes in handling and processing your visa application. In addition to that, they also deal with the Department of Home Affairs and other necessary organisations for you on your behalf. 
It's your wish whether you want to hire a registered migration agent or not but, in case if your case is too complex, then they are very helpful. 
5 Reasons to Hire a Registered Migration Agent!
You might not be fully convinced with our contemplation, thus, a list of compelling reasons is provided below for your assistance. 
Industry regulated:
Registered migration agents are supervised for the integrity of conduct and quality of immigration assistance they are providing. Having said this, they must also:
Meet the qualification requirements for registration that includes having a good knowledge of migration law and procedures. 

Maintain a professional library and up-to-date with knowledge.

Complete ongoing training to register themselves as registered migration agents every year. 

Be of a good and sound character.

They must abide by the migration agents code of conduct. 
Higher chances of success:
Needless to say, a registered migration agent deals with visa applications every day. They have experience in dealing with different types of visa applications. They ensure that all the crucial documents are attached to the visa application. With this, they minimize the risk of your visa application getting rejected especially in countries like Australia. They will all your bases covered that are mandatory for a strong & successful visa application. 
Knowledge & Expertise:
A registered migration agent has all knowledge and expertise embodied in themselves. They will see if your visa application has the necessary documentation or not. Moreover, if there is an alternative pathway for a visa, they will update you about that as well. 
There is a consistent addition of new rules and laws in the immigration process of a country especially a country like Australia. So, the migration agent will update you about them as well so that there remain no chances of your visa application getting rejected.  
Removes stress & saves time:
Imagine you yourself doing visa application formalities to go to a new country. That is going to be troublesome and time-taking deal for you. Isn't it? Save your time and stress by appointing a registered migration agent. There will be times when you will have to have a word with the Department of Home Affairs, at that time, a migration agent will help you. 
Solve complex issues:
You never know if your application gets treated as far more complex than that of others. Your visa application will be prone to get cancelled or rejected. Save yourself from such hassle by hiring a good registered migration agent. 
Wrapping Up
As registered migration agents, the team at Ozee Migration can help you with all the complexities that may arise while filing a visa application. Your dream destination is calling and is welcoming you with full wide arms open, it is your prime duty to assure that all the strings are absolutely in the right place.