What Are the Common Reasons for Graduate 485 Visa Refusal?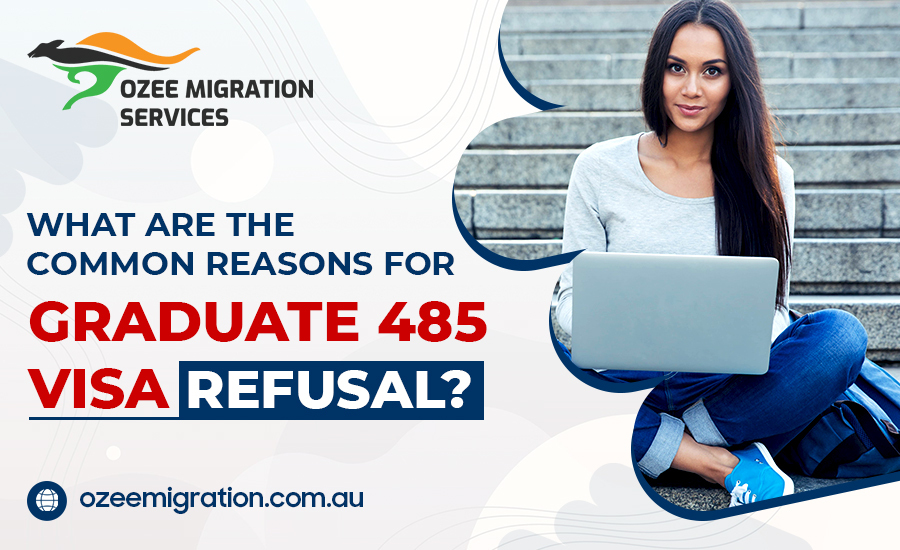 If you're an international student who has already completed his/her initial studies in Australia then you might be looking at another alternative to live in Australia. Temporary Graduate Subclass 485 Visa maybe? This visa can act as your rescue option to extend your stay in Australia. This temporary visa can be your means to a successful permanent Australian visa. 
But before applying for even a temporary visa, it is crucial to go through the core aspects of it. Sometimes, a lack of knowledge & understanding may drive you towards a heart-wrenching situation i.e visa refusal. Such a situation won't only fade your aspirations but can also make you incompetent to reapply for this visa or any other visa in future. It is advisable to see up to a migration agent Adelaide to avoid an atrocious situation like this.

Top 6 Reasons To For a Graduate Visa Subclass 485 Visa Refusal
Below-down is some of the top reasons for a graduate visa subclass 485 refusal. 
Late Filing of the Visa Application-

For a successful visa application, you must apply within six months of having an eligible student visa and completion of your untaken course. One important thing to note is that you must not confuse the completion date. Certain, that the mentioned date is when your final exams(of the taken course) get completed and not the date of graduation. Any discrepancy in the date mentioned may result in a visa refusal. To completely get rid of any such situation, it is better to consult a

migrant agent Adelaide

beforehand. 
Insufficient Documents- To supply all the documents at the time when Immigration Authorities ask is the most important step towards your visa approval. In case you fail to submit all documents or if there's any mistake, the authorities will outrightly refuse your visa application. If the department requests any further application or documents, then you must respond to them within the period before the deadline. However, if you couldn't comply within the period, then you must ask them for some more time. Even now if you fail to comply with all the applicable dates to deposit your required documents, your application will be refused. 
Enquiry By Australian Federal Police-

At the time of visa application, you and all your 16 years and above dependents, must be capable to show that you have applied for an AFP within 1 year of your visa application. To fulfil this requirement, you must be able to provide an AFP receipt number in the visa application form and a copy of your AFP request check & receipt of payment. 
If you fail at proving that you applied for an AFP check within 12 months or if your AFP check is older than 12 months, then your visa application might get refused. Besides, you must select code 33 when applying for the visa as "the purpose of check". 
Failing To meet English Proficiency Requirements-

If you hold a passport from a valid English speaking country like the UK, Canada, USA, NZ, or Ireland, then there is no need to give a test as evidence of your English speaking proficiency. In another case, when you don't have a passport from such a country, then you must give the test to get the required score. The test must be given within 3 years from the day you applied for the visa. However, if you want to give the test before, then ensure that you have plenty of time to do so. 
Unable to meet the Australian Study Requirements-

You must stand out on the study requirements stated by the authorities. You must complete a diploma, degree or trade qualification in Australia. You must also be residing in Australia for a minimum of 16 months between your course starting and completion dates. If the dates are not correct, it will lead to a visa refusal. Another important requirement is that you must be enrolled in a 2-year academic course i.e 92 weeks(according to CRICOS). Sometimes, it is not possible for a person to effectively figure out the study requirements, in such a scenario, try turning to a

migration agent Adelaide. 
Health Insurance-

For a 495 visa, you and your dependents must show that you have valid health insurance. The required time for health cover begins from your date of visa application to the time decision is finalised. If you are already on a student visa at the time of visa application, then you may provide the OSHC(Overseas Student Health Cover) as evidence. As soon as the student visa expires, you must apply for another health insurance to show in front of Immigration Authorities. If you get a visa grant, then you will be under condition 8501. This requires you to have an adequate level of health insurance until & unless subclass 485 is valid. If you lack at maintaining so, you will automatically call yourself a visa refusal. 
How Can Ozee Migration Act As Your Immigration Agency Adelaide?
The migration agents Adelaide at Ozee Migration are all the time devoting their skills & knowledge to help applicants to get their dreams fulfilled. Give us a chance to become your reliable partners in every little phase of your aspiration ride. We ensure you with core principles circumscribing efficiency, fast processing, less stress, and more satisfaction.